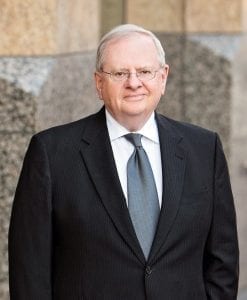 Edmund J. Sease, an intellectual property attorney and named partner at McKee, Voorhees & Sease, PLC, conceived and coordinated the Drake Law Review's Spring 2021 Intellectual Property special edition dedicated to controversial and timely patent law topics.
The publication includes articles authored by several prominent people, including Sease, honorable Chief Judge Paul R. Michel (ret.) of the U.S. Court of Appeals for the Federal Circuit; Matthew J. Dowd, former clerk for Michel and partner and founder of Dowd Scheffel, PLLC; Sarah Hinchliffe, associate professor at Long Island University; University of Iowa College of Law professor Jason Rantanen.
"The purpose of this issues is not only to educate but to make you think," Sease said. "We live in an information age where there is a tsunami of information and no hierarchy of what is important and what is not. Hopefully, you will be entertained and educated, and the articles will make you think: What should patent law be?"
McKee, Voorhees & Sease, PLC is a key contributor to the Iowa G2M accelerator program, a partnership between BioConnect Iowa, the Iowa State University Startup Factory and VentureNet Iowa that seeks to provide follow-on support for Iowa entrepreneurs who are developing technology-driven innovative products or services and need additional support to increase their likelihood of commercial success.